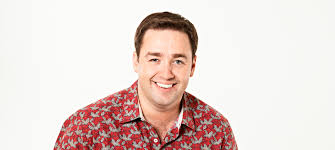 ITV brings a brand new, larger than life game show to primetime later this spring. Bigheads pits some of the worlds most recognisable faces head to head in this is a unique, fast paced and high-energy show.
Every week eight members of the public are transformed into the world's most famous celebrities by donning giant heads. The Bigheads compete against each other in a series of massive celebrity-inspired challenges in this new physical game show.
The celebrity Bigheads featured in the series range from politicians and celebrities through to historical figures and royalty. For example Simon Cowell, Mo Farah, Adele, Benedict Cumberbatch and Victoria Beckham will appear alongside the likes of William Shakespeare, Boris Johnson, Prince Charles, Queen Victoria and Donald Trump.
This six part series, hosted by comedian Jason Manford, will be filmed in front of a live arena audience, culminating in a grand finale, sixth episode.
Jason Manford said: "I'm really looking forward to you all seeing Big Heads. It's the daftest show I've ever been involved in and I've done a lot of daft shows! It's the show where people in massive celebrity heads get hit in the face and fall over. If you don't like that you need to have a long hard look at yourself."
Joining Jason each week to commentate on proceedings will be TV personality Jenny Powell and Olympic athlete Kriss Akabusi MBE.
Jenny Powell said: "I'm so excited to be involved in a show like Bigheads for ITV. It's so different from anything I've done before and I'm delighted to be working with the hilarious Jason Manford and sporting legend Kriss Akabusi. Viewers can expect a lot of fun and high energy – it's a real treat for all the family."
Kriss Akabusi said: "I'm very excited to be involved with ITV's new series Bigheads! It has everything one could want and more for evening family entertainment; drama, excitement, spectacular costumes and set, all this fused with real athletic endeavour."
Bigheads has been commissioned by Head of Comedy Entertainment Peter Davey and Gemma John-Lewis, Assistant Commissioner, Comedy and Entertainment. Peter Davey said: "It happens rarely but this was the first time 'I commissioned in the room'. The idea made me laugh at that original pitch and makes me laugh every time we meet to further develop it. It's unhinged – in a warm, fun, family viewing type way…. if that's possible".
Mat Steiner, Adam Wood and Paul Wright from Primal Media will executive produce the show.
Tags :
General
International
Interviews
jason manford
National Reality Television Awards
National Reality TV Awards
News
NRTA
Reality TV Awards