MasterChef 2017 Champion revealed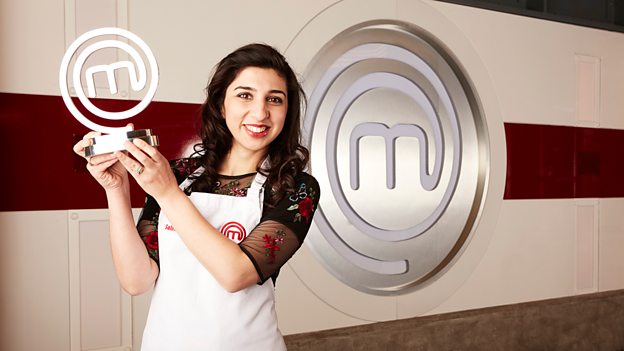 Twenty-nine-year-old doctor, Saliha Mahmood-Ahmed, has become the MasterChef 2017 Champion, it was announced today, becoming the thirteenth amateur cook to claim the title.
Facing off competition from 63 other determined contestants, through seven gruelling weeks of culinary challenges and an exhilarating final cook-off, Saliha was awarded the MasterChef 2017 trophy by judges John Torode and Gregg Wallace.
On her win, Saliha says: "I feel amazing right now, I can't actually believe that this is true. I'm so happy that my cheekbones are hurting and I'm probably going to have a paracetamol for smile-induced fatigue! I'm a scientist, I'm not an artist, and this is pure creativity. To be the MasterChef champion is fantastic and wonderful. Adjectives are not sufficient. This is most definitely the coolest thing that I've ever done in my life!"
The emotional judges congratulated Saliha her on her win.
John Torode says: "Saliha is a class act. She's walked in here and taken her food culture apart and put it back together in a modern and very exciting way. She always does something a little bit extra – something which always surprises us."
On her winning menu, he said: "Those dishes sparkled. They were clean, crisp, refined and beautiful."
Gregg Wallace says: "It's East meets West and it is stunningly good."
Speaking about the final and Saliha's journey, Gregg says: "What an incredible cook and an incredible person. Saliha's flavours were always outstanding, but when she translated those flavours into modern presentation there was no stopping her. Her food is simply stunning – beautiful art on a plate."
Saliha fought her way from 64 amateur cooks through to the final week and, along with the other outstanding finalists, Steve Kielty (40) and Giovanna Ryan (29), was pushed to show the judges the skills, creative flair and perseverance needed to succeed at the highest level in the fierce final challenges.
In a punishing final week, MasterChef fans have seen Saliha cook for the American Ambassador under one of Britain's best chef's, Paul Ainsworth; embark on a culinary adventure to South Africa and take on three exceptional challenges – firstly mentored by one of South Africa's most celebrated Reuben Riffel, then under British-born Luke Dale Roberts at the world-renowned The Test Kitchen restaurant and finally cooking for leading figures in Cape Town's cultural and food community; and in the penultimate programme, cook for The Chef's Table, overseen by one of the country's most creative chefs, the two-Michelin starred, Sat Baines.
The final task was to prepare a three-course meal for judges John Torode and Gregg Wallace. Saliha's winning menu started with a Venison shami kebab with cashew and coriander green chutney, chana daal and a kachumbar salad – in memory of her grandmother's house in Pakistan. Saliha's main course was a Kashmiri style sous-vide duck breast, with crispy duck skin, freekeh wheatgrain, spiced with dried barberries, walnuts and coriander, a cherry chutney and a duck and cherry sauce. The final dish in Saliha's menu was a Saffron rosewater and cardamom pannacotta, served with a deconstructed baklava (inspired by her childhood love of baklava), including candied pistachios, pistachio honeycomb, filo pastry shards and kumquats.
Saliha started cooking at a young age, influenced by her family, and also encouraged by her teacher. She explains: "I'm from a big Pakistani family and we use food as a way of bringing everyone together. I had very passionate grandmothers who cooked traditional Pakistani food and my mum is also an excellent cook. We love to feed people – it runs in our genes''.
"I discovered my love for cooking in food technology lessons in year 7 at school. Then when I was 15, my Food Tech teacher entered me into the School Chef of the Year competition and I won it."
On her reasons for entering MasterChef, Saliha says: "I've always seen food as a serious hobby but being a doctor means I don't always have the time to fully engage in it. I entered the competition to challenge myself, and see what I was capable of."
At the end of the competition, she looks back on her MasterChef experience: "Cooking for John and Gregg was a pleasure and a privilege and what I've taken from MasterChef has allowed me to take so much more confidence for the future."
Saliha is a junior doctor, training to specialise in Gastroenterology. On balancing her job with her time on MasterChef, she explains: "I have a lot of support from my wonderful husband and family, who gave me the strength and encouragement to go through this incredible experience. I have great work colleagues, who swapped on-call shifts with me so I could attend the filming days. I feel like winning MasterChef was a team effort for us. It involved a lot of hard work and early starts – late nights cooking after 13-hour-long shifts, no holidays, no breaks, no sleep – but it was well worth it!"
Saliha talks about her personal influences in cooking: "My passions include Pakistani food, Kashmiri cuisine, Persian and middle-eastern food and Mughal cooking. Tarla Dalal, Nigella Lawson, Cyrus Todiwala, Sabrina Ghayour, Atul Kochar and Greg Malouf have been my inspiration over the years. My most treasured cookbook – Rani, A Legacy of Recipes and Fables, given to me by my granddad."
On her future plans, Saliha says: "My dream is to continue working as a doctor – and also to combine it with my other passion – food. I'm specialising in Gastroenterology and to be able to help patients through medicine and my food knowledge would be incredible. I'd love to write cookbooks in my own style, as well as healthy eating cookbooks. I'd hope to be able to help drive the country towards healthier meals – and work on national campaigns to tackle obesity, particularly in children."
Saliha grew up in Ickenham, Middlesex, and now lives in Watford with her husband, Dr. Usman Ahmed, and their two-year-old son, Aashir Ahmed.
Tags :
Masterchef
National Reality Television Awards
National Reality TV Awards
News
NRTA
NRTA Award show moments
Reality TV Awards
Red Carpet interviews
Saliha Mahmood-Ahmed
Saliha Mamood
VIDEO