Meggi Lashes joins the list of bronze sponsors for the 12th Annual National Reality TV Awards
United Kingdom, London 13/03/23,  The 12th edition of the UK's prestigious reality television awards, scheduled to take place on July 31, 2023, at Porchester Hall in London, will be sponsored by Meggi Lashes, the National Reality TV Awards officially announced today.
Meggi Lashes is an exciting, vibrant (and very often pink) cosmetics brand that offers a unique twist on how customers receive their products. They have 30 vending machines (and counting) up and down the country giving its clientele easy access to a range of products without having to deal with the wait times when ordering online (which you can also do with free shipping).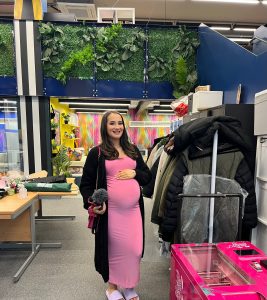 Founded in 2020 by Meggi Morgan with a humble £300 investment, the entrepreneur from Dudley is constantly looking to create new and interesting ideas that fit right into your purse or bag, separating the company from its nearest competitors. These items are included but not limited to, false eyelashes – which is what has made Meggi Lashes what it is today – all the way up to the conveniently packaged lip-gloss key chains which come in a range of smells and flavours. Boasting a modest yet passionate workforce of fifteen individuals, Meggi has seen exponential growth that has taken her company into the mainstream and provided an affordable and very easily accessible product. This rapid widening of the brand has influenced the company to invest in a pink (of course) customised van that acts as a portable shop as well as being the vehicle that facilitates the restocking of the vending machines.
The various locations are as followed; Liverpool (where Meggi Lashes is based), Bootle, Warrington, Wigan, Manchester (Trafford Centre and Arndale), Preston, Stoke – on – Trent, Shrewsbury, Sheffield, Wakefield, Leeds, Dudley, Doncaster, Birmingham, Nottingham, Middlesborough, Hull, Newcastle, Milton Keynes, Cardiff, London, Stratford, Livingston, Dundee, Essex, Leicester and more. Meggi shows absolutely no signs of stopping either. Fiercely determined, Meggi wants 2023 to be the platform for a fresh drive in terms of providing more vending machines for her many fans around the UK. 
Meggi Lashes has received widespread praise for listening to what its customers want by making communication extremely easy and simple be it via social media or even email, thus allowing the brand to grow with its consumers as opposed to being against them. Some examples of this was Meggi's desire for the products to be vegan as well as cruelty free, allowing them to be morally inclusive as well as stylistically. Another example, whilst also remaining on the subject of style, is that they cater for a wide variety of cosmetic tastes – whether your preference is a subtle look (the half lashes) or a more striking one (Pink Popping), she's got you covered.
All in all, Meggi Lashes manages to find the balance between being an ever growing, increasingly popular brand whilst also remaining grounded and accessible to all. Everybody can afford Meggi Lashes products and that's how it'll stay. From the start, right up until the end. Slay queens!
 Meggie morgan, Owner of Meggi Lashes said:
"Meggi lashes is honoured to be in partnership  with this year's National Reality Television awards. We are excited to build a business relationship with the NRTAs for many years to come along with the stars that will be involved."
The first and largest worldwide celebration of reality television, the National Reality Television Awards debuted in 2011 and continue to grow admirably to this day. Reality television has recently outperformed other television programs in terms of audience across the globe, competing head-to-head with classic soap operas, movies, and other shows. 
The 12th annual National Reality TV Awards returns to London on the 31st of July with Open Call for nominations submissions now open. 
You can shop the full collection of Meggi Lashes now at www.meggilashes.co.uk or you can also check Meggi Lashes out on 
Tiktok: @meggilashes
Instagram: @meggilashes
Facebook: Meggi Lashes 
Tags :
Cosmetics
false lashes
meggi lashes
NRTA 2023
sponsor
woman entrepreneur
women empowerment