Stephanie Hair Extensions announced as Bronze Category Sponsor for the 11th National Reality TV Awards
The National Reality TV Awards is pleased to announce a Bronze Sponsorship partnership deal with Stephanie Hair Extensions for the forthcoming 11th edition of the prestigious National Reality TV Awards, set to take place on the 28th of July 2022, at Porchester Hall in London.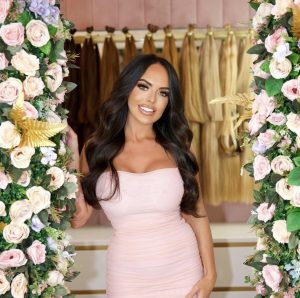 Stephanie Hair Extensions is a well-known salon with a large and dedicated clientele from all over the world and was the first hair extension boutique in Yorkshire to operate. With over 12 years of expertise in the field, they are true perfectionists. Their team of eight devoted and highly qualified employees ensures that the enormous demand for their services is met, and focuses on providing their clients the VIP hair treatment they deserve. 
At Stephanie hair extensions, they provide multiple hair extensions services. From professional hair extension fittings/training / and luxury hair sales for retail & trade customers. The team understands the importance of hair in enhancing a woman's self-esteem, which is why they inspire to grow the confidence of their clients and empower them to look and feel good. 
The salon offers multiple hair extensions methods all of which are incredibly safe & gentle to the natural hair. They have earned recognition in the beauty industry through their hard work and passion for these products & exclusive collaborations. Stephanie's luxury hair is made from the highest quality 100% Russian Cuticle Correct Human Hair. They believe this hair to be every customer's most powerful accessory. With a swarm of social media fans and thousands of salons/ambassadors offering their products worldwide, they bring you the very best luxury quality hair extensions & products to date. Stephanie Hair Extensions may help you reach any of your goals, whether it's to entirely change your look, add length, or simply add volume.

Stephanie, Director of Stephanie Hair Extensions proudly announces
"Stephanie Hair Extensions is super excited to be sponsoring this year's National Reality TV Awards. We feel privileged by the recognition and we are looking forward to a long term business relationship with the national film academy." 
As part of this Bronze sponsorship agreement, Stephanie Hair Extensions acquired naming rights for the Best Talk Show at this year's 2022 National Reality TV Awards, of which nominees include:
Good Morning Britain
Loose Women
The One Show
The Lateish Show with Mo Gilligan
The Last Leg & more
The 11th annual National Reality TV Awards returns to London on the 28th of July, with nominations already announced and voting is now live on the official NRTA website at https://nationalrealitytvawards.org/voting/
For more information on Stephanie Hair Extensions, check their Website | Instagram| Facebook
Tags :
Hair
NRTA 2022
NRTA Bronze Sponsor
Stephanie Hair Extensions